Adoptions for the 2022 season has closed. All new adoptions will be for the 2023 season.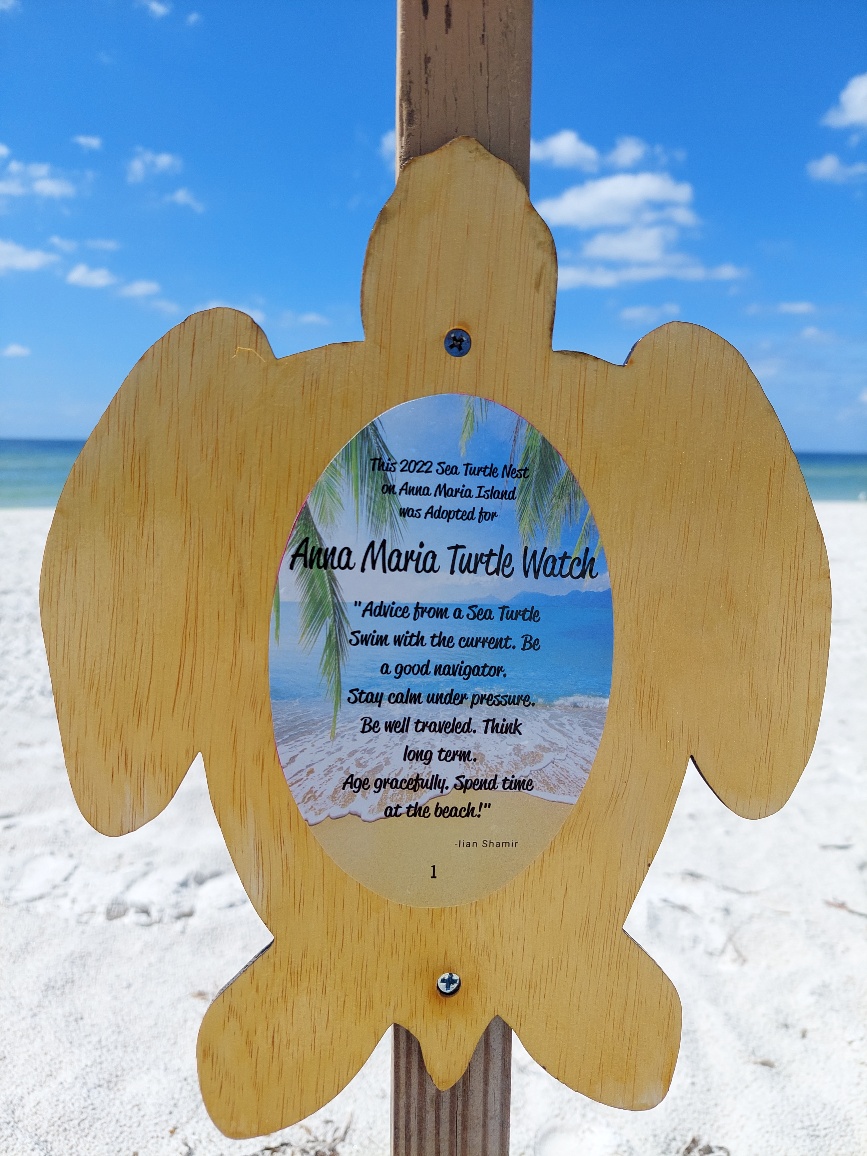 Show your support for the Anna Maria Island Turtle Watch by adopting a sea turtle nest that has been laid on the beaches of Anna Maria Island. As a premium for your $125 tax-deductible donation a plaque of your choice will be placed on a nest.
When the nest hatches and the data is collected your adoption package will be mailed out within 30 days. You, or your recipient, will receive:
The plaque from the nest
Data taken in the field by Volunteer Staff written on the back of the plaque when excavated
A letter of appreciation from the volunteers working your nesting beaches
Satisfaction of helping to save sea turtles on Anna Maria Island
A personalized adoption certificate (via email)
We can no longer add a picture you supply to the plaque, our new software doesn't support this
We DO NOT let you know when the nest will hatch that is not part of the program, you can't watch the hatch.
You can contact us at

[email protected]

to check on the location of your Plaque on the beach. Note location may change during the time the plaque is on the beach. We sometimes have to pull all plaques for tropical weather / high surf events, when we put them back they may go on a different nest.
Free shipping anywhere in the world!
All donations collected from our Adopt a Nest Program go to our many School Educational Programs, our Public Awareness Campaign and the production of our many handouts given to visitors & residents of Anna Maria Island.
Nesting season is May 1 through Oct 31. Personalized Plaques will go on the adopted nests starting in mid-June. The handmade wooden plaques, assembled by your volunteers, are placed in the order received and as nest are laid. Most plaques will go on the beach in early July. The plaques will remain on the nest for the approximately 45 to 70 day gestation period.
A printable adoption certificate will be sent by email upon receipt of your order. The certificates are not automatically generated. They are done by staff so they don't go out instantly. They go out once a week. If you need one right away for a gift let us know. You may print and give the certificate as a gift anytime. We email the certificate to the person adopting the nest at the email provided. You may then print it or forward it to the recipient of your choice.
You may use your adoption to promote a business or organization. It is great exposure to those walking the beach and a cool thing to display in the office afterward.
Requests for specific locations
We can not honor
ANY
requests for specific locations. The plaques are made and we place them on the beach once a week (usually Sunday) on the first suitable nest we find, trying to place one at a specific nest or area adds too complexity to the program. You may see nests that don't have plaques in a area you like but that may not be a suitable nest for adoption or we may have another reason for not placing a plaque there. Your adoption is symbolic, you are making a donation to support the program and to support ALL nests on AMI. Nesting is not uniform on the island and we have had many requests for areas with light nesting while suitable nests are available in other areas.
Storm Protocol
AMI is subject to tropical weather patterns. Hurricane season (June 1 – Nov 31) coincides with Sea turtle nesting season. History has shown us that we can expect one or more tropical weather events while the Adopt Nest plaques are on the beach.
Our first concern, of course, is the safety of our Volunteer Staff. Remember that turtles have successfully nested in the tropics for thousands of years. Nests may take on water and still hatch, marking stakes may wash away but the nests may remain viable. We do not relocate sea turtles nests to avoid natural weather events.
In the event of incoming hazardous weather that may disrupt adopted nests on the beach, here is the protocol:
Your adopted nest signs will be removed from the beaches and will be stored safely in our offices. If your nest is still marked on the beach when the storm passes, we will continue to monitor the nest and you will receive all its information with your plaque and packet of goodies after the nest hatches. If the stakes marking your nest washes out, we will send your plaque and adoption package along with what info we have on it.
Remember your adoption is symbolic and the funds go to help us in our nesting beach data collection work.